The Helper
Update, Feb. 29, 2020: On Saturday, the FDA announced an "accelerated policy … to achieve more rapid testing capacity in the United States," allowing academic hospital labs capable of performing high-quality testing to develop and begin using their own tests to detect COVID-19. Before now, hospital labs weren't sent test kits by the CDC and the FDA required an extensive review process even if the hospitals had internally validated their tests. Under the new policy, the FDA review will still be required, but labs will be able to start using their diagnostics once they are internally validated. On Saturday, officials in Oregon and Washington state said they had found new cases of COVID-19 that appeared to be instances of "community spread," where the source of infection is unknown.

As the highly infectious coronavirus jumped from China to country after country in January and February, the U.S. Centers for Disease Control and Prevention lost valuable weeks that could have been used to track its possible spread in the United States because it insisted upon devising its own test.

The federal agency shunned the World Health Organization test guidelines used by other countries and set out to create a more complicated test of its own that could identify a range of similar viruses. But when it was sent to labs across the country in the first week of February, it didn't work as expected. The CDC test correctly identified COVID-19, the disease caused by the virus. But in all but a...
Some species of deaf moths can absorb as much as 85 per cent of the incoming sound energy from predatory bats -- who use echolocation to detect them. The findings, published in Royal Society Interface today [25 February], reveal the moths, who are unable to hear the ultrasonic calls of bats, have evolved this clever defensive strategy to help it survive.

Bats hunt at night using echolocation. The technique, which is also known as biological sonar, first evolved around 65 million years ago and enables bats to search for and find prey putting huge predation pressure on nocturnal insects. One defence that many nocturnal insects evolved is the ability to hear the ultrasonic calls of bats, which allows them to actively evade approaching bats.

Many moth species, however, cannot hear. The team of researchers from the University of Bristol wanted to investigate the alternative defences against bats that some species of deaf moths might have evolved.

Using scanning electron microscopy, the team from Bristol's School of Biological Sciences discovered that the thorax scales of the moths Antherina suraka and Callosamia promethea looked structurally similar to fibres that are used as noise insulation, so wanted to explore whether the thorax scales of moths might be acting in some way to absorb the ultrasonic clicks of bats and dampen the echoes returning to the bat, offering the moths a type of acoustic camouflage....
New York (CNN Business) - Andrew Walz calls himself a "proven business leader" and a "passionate advocate for students." Walz, a Republican from Rhode Island, is running for Congress with the tagline, "Let's make change in Washington together," or so his Twitter account claimed.
Earlier this month, Walz's account received a coveted blue checkmark from Twitter as part of the company's broader push to verify the authenticity of many Senate, House and gubernatorial candidates currently running for office. Twitter has framed this effort as key to helping Americans find reliable information about politicians in the leadup to the 2020 election.
But there's just one problem: Walz does not exist. The candidate is the creation of a 17-year-old high school student from upstate New York, CNN Business has learned.
The student, who CNN Business spoke to with the permission of his parents and has agreed not to name as he is a minor, said he was "bored" over the holidays and created the fake account to test Twitter's election integrity efforts.
The blue checkmark is a hallmark of Twitter and one that was later copied by Facebook. It is often given to prominent accounts belonging to journalists, politicians, government agencies and businesses. The feature is central to Twitter's goal of helping users find reliable information on the platform, often from verified newsmakers.
Read more here. (CNN...
A few days ago, GOG announced it was changing its refund policy as part of a "declaration of trust" to consumers. Previously, refunds were given only if the game hadn't been downloaded and played, or if the game
literally wouldn't run on a player's hardware
: but now players will be able to request a refund at any point during a period of 30 days after purchase, no strings attached.
"Everyone at GOG believes in a 'gamers-first' approach,"
the blog post said
. "The latest update to our voluntary Refund Policy adds another piece to this customer-friendly experience. And it all sums up in one sentence: starting now, you can get a full refund up to 30 days after purchasing a product, even if you downloaded, launched, and played it. That's it."
On the surface, it seems like a big win for consumers: you can test-drive any game, and if you're really not liking it for whatever reason, the refund process is painless and streamlined. The policy change also means GOG has effectively leapfrogged Steam's already-flexible refund policy,
which allows players 14 days to request their money back
- so long as they've played less than two hours of the game.
But in making it so...
KING COUNTY, Wash. -- Governor Jay Inslee declared a state of emergency Saturday as Washington sees its very first death from coronavirus in the U.S.
Officials say a man in his 50s came to EvergreenHealth Medical Center with serious respiratory issues and tested positive for COVID-19. He had no history of travel or known contact with anyone suffering from COVID-19.
Apart from the man who died, three presumptive positive cases of coronavirus were confirmed Saturday in King County.
EvergreenHealth confirms that there was also a second patient who tested positive for the virus. They remain in isolation and are receiving treatment. The patient was also not linked to any outside U.S. travel.
Two additional cases came from the LifeCare Center in Kirkland, including an employee in her 40s who remains in satisfactory condition and another women who is a resident and in her 70s. She remains in serious condition at EvergreenHealth Hospital. Both had not traveled outside of the U.S.
Read more here. (KOMO News)
Researchers at the Washington University School of Medicine in St. Louis have shown that it is possible to use human stem cells to functionally cure diabetes in mice in just a couple of weeks. The treatment kept the disease at bay for at least nine months and up to more than a year in some mice.
The work, published in
Nature Biotechnology
, builds on previous research by the team. They focused on the use of human pluripotent stem cells, cells that can take the form of any type of human cell. They used the cells to generate pancreatic beta cells, which are known to secrete insulin, the hormone that regulates blood sugar level. People with diabetes cannot produce sufficient insulin to control their blood sugar level.
The mice were given severe diabetes using a substance known as streptozotocin. The human cells were then implanted in the animals, where they successfully began to control the rodents' blood sugar levels, functionally curing the disease.
"These mice had very severe diabetes with blood sugar readings of more than 500 milligrams per deciliter of blood – levels that could be fatal for a person – and when we gave the mice the insulin-secreting cells, within two weeks their blood glucose levels had returned to normal and stayed that way for many months," principal investigator Dr Jeffrey R. Millman, an assistant professor of medicine and of biomedical engineering, said in a...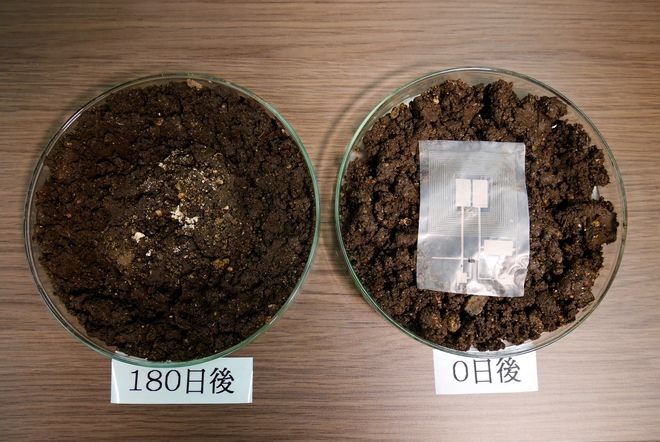 OSAKA--Scientists here have created a biodegradable paper-thin sensor device that connects to the internet of things (IoT) system to transmit data.
The nanopaper sensor device, which the researchers developed to collect data without damaging nature, is a potentially large leap toward production of environmentally friendly electronics.
The square, 1-millimeter-thick nanopaper sheets are used as substrates and can be left to naturally decompose in soil. They are the brainchild of scientists at the Institute of Scientific and Industrial Research (ISIR) of Osaka University.
The devices are expected to be adopted for data collection without harming the environment in places where instruments would be difficult to recover.
The substrate and some other components of the devices are made of nanopaper comprised of extremely thin fibers, allowing the device to be decomposed by microorganisms in the soil.

Read more here. (Asahi Shinbun)
Activision Publishing has filed a Digital Millennium Copyright Act subpoena against Reddit Inc this week to get the identity behind a Reddit user. The subpoena was filed in California court on February 14.
Reddit user Assyrian2410 posted on r/ModernWarfare last week a post titled "I found this image online, not sure what it is." The post showcased what appeared to be an artwork for "Call of Duty: Warzone." The user quickly deleted their post from Reddit and deleted their account, but the image spread around the internet.
Per
THR
, Activision is looking to identify who is the leaker behind the Assyrian2410 account to identify how the image was leaked.
"Reddit is the service provider to which the subject of the subpoena-Reddit user 'Assyrian2410' – posted infringing Activision content. The Content infringes Activision's exclusive rights under copyright law. Specifically, it infringes Activision's rights in its popular video game
Call of Duty: Modern Warfare
."
Activision is seeking the information from Reddit to then pursue legal action against Assyrian2410 for posting the image online.
At the time of this writing, Activision has yet to even announce Call of Duty Warzone officially yet. All information has just been leaks via sources and in-game files. There still is no confirmed release time table for this mode....
In nothing short of a jackpot for the Uttar Pradesh government, geologists have discovered massive gold deposits in Sonbhadra district of eastern Uttar Pradesh. The discovery comes after two decades of search by the Geological Survey of India and the Uttar Pradesh Directorate of Geology and Mining. As per estimates, there are two goldmines with around 3,500 tonnes of gold ore in the Naxal-affected Sonbhadra district. This is around five times the current gold reserves of the country which stands at around 626 tonne.

According to District Mining Officer KK Rai, the government is thinking of putting these deposits on lease for mining. The GSI had first said in 2005 that there were gold deposits present in Sonbhadra. The claim that goldmines are present beneath the mountains in the Naxal-hit district of Uttar Pradesh were confirmed in 2012. As per officials, a seven-member team has been set up for survey and soon auction of the blocks will begin.

According to media reports, the goldmines are situated in Hardi village and Sonpahadi in Mahuli village of Dudhi Tehsil in the district. Rai said that while 2943.25 tonne gold deposits are located in Sonpahadi, around 650 tonnes are in Hardi.

He said that the gold blocks will be auctioned online after the completion of geo-tagging process by the team. The team has been asked to submit a report to the GSI's Lucknow office by February 22....
(CNN)A single dose of psilocybin, a compound found in "magic mushrooms," provides long-term relief of anxiety and depression in cancer patients, a new study finds.
In fact, cancer patients who were given psilocybin reported reductions in anxiety, depression, hopelessness, demoralization, and death anxiety more than four years after receiving the dose in combination with psychotherapy.
"Our findings strongly suggest that psilocybin therapy is a promising means of improving the emotional, psychological, and spiritual well-being of patients with life-threatening cancer," said Dr. Stephen Ross, associate professor of psychiatry in the Department of Psychiatry at NYU Langone Health.
The findings build on improvements
first reported
by the team in 2016, in which 29 patients with cancer-related anxiety and depression were given either a single dose of psilocybin or a vitamin placebo called niacin. Seven weeks later, they were given the opposite. This was in combination with nine psychotherapy sessions.
By 6½ months, after all patients had received psilocybin, about 60% to 80% showed clinically significant reductions in depression, anxiety and existential distress and and improved attitudes toward death.
Read more here. (CNN)