Dozens of Jewels, Dozens of Lands, Hundreds of Creatures,
Over 600 Combination for your own benefits
"There will come a time, when our own world will be thrown into strife, and disorder. Tensions between our own races and the unknown, far beyond our coastline, will arise. Laws, and the balance of our lives will crumble, and so too will the world. Salvation, will only come when Heroes emerge among the Four villages and Appease that, which threatens the Ten Embodiments of this Land. The God Jewels." ​
​
Introduction
Gemstone Odyssey, is a new style of DnD that we have created to encompasses the ability of customization on your characters far beyond the basis of luck and stats. Unlike Extinction or other DnD's we have hosted here before, Gemstone, will incorporate a specialization of weapons and items, and less on major stats. Making it easier for beginners; as abilities and rolls will be as simple or as complex as you want them to be depending on how much you customize.
​
Concept & Gameplay
Unlike Extinction or Previous DnD's which require advance and massive character sheets and usually made for players who have ether played a Roleplay before or catch on quickly. Gemstone will start off extremely basic, and become more complex with a small character sheet in comparison.

How is this so? Simple, Jewels or Gemstones. By plugging in one of the three tiers of Gemstones, varying from the Basic Five Elemental Jewels which are common and have fair benefits from the Third Tier Spiritual Jewels which have abilities far beyond human comprehension, they can turn your simple longsword into a Life Stealing Blade that is on Fire. Badass don't you think?

Even more customization can come in with the Special Second tier jewels, the uncountable, unstable chaotic jewels that can give even more benefits depending on your weapon. Is it that, in the world of Gemstone, that humans whom have been living on the Eagle Coast, hugged against the coastline and the nearby mountain range for centuries, have been discovering and inputting these jewels of power into their weapons. To unleash magic upon their enemies.

Because of this; turmoil now fills the land, as your character, a petty Mercenary discovers they are fated to much grander things then beyond the four villages of humans. As they explore the unknown world and wasteland that is crumbling apart as an unknown force grips the land, a force that can only be tamed using the mysterious and possibly nonexistent God Jewels...​
The Jewels
The Powerful Jewels that bring the sources of "Magic" to humans in the world of Gemstone can be divided up into 3 Tiers. Elemental, Chaotic and Spiritual.
Elemental
Chaotic
The Chaotic Jewels, have no set of elements of numbers, instead they improve your weapon or item by adding things like multishot, and improved accuracy, as well as, things that seem to be almost impossible. Chaotic Jewels are easy to find because the sheer number of them make them common, however because there are so many types finding exactly what you want can be nearly impossible.
Spiritual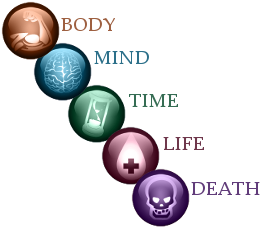 ​
The World
The Known Locations to Humans, and maps of territories and places you will collect on your journey.
The Eagle Coast
The Domain of the Humans, The Eagle Coast is a small sliver of territory between the might East Ocean and the Eagles Crest (Mountains) that protect Humanity, from the races of the Wasteland and the Unknown. Few Dare travel over those peaks, and those who have, were never heard from again. Some say, over the peaks lie short races with large beards, others say humans of vast intelligence and pointy ears lie beyond the peaks as well, but more say demons, and dragons; creatures of hostile nature roam the area of the Wastelands.
Behind the protective mountains however, rests the Four "Kingdoms" which the four races of humans divide themselves in; the Sevaeli, Serah, Khore and Velari. Each equal in their own strengths but different in every way. Personality wise, they could all be considered opposites, yet all are human, all act like humans, and all will fight like humans. As Tensions between the Four Groups, are neither wars or duels, but more scrambles of units into battle over minor territorial disputes and religion. A simple deep seeded hatred is planted between the groups, and putting all four in one army, might led to disaster...​
The People
The collective knowledge of the (Human) Races, about themselves and the Races of the Unknown and the Wasteland.
Sevaeli
Serah
The Serah live in a brutal society of bandits, thieves, and rogues. The streets of Serah cities are dangerous to roam, where anyone can be assaulted at any moment. Some merchants do make a living in these cities, peddling wears that are typically stolen goods. Many a thief will try to rob them of goods, and as such the merchants have gotten into a habit of hiring banished Khore as body guards to repel and deal with thievery.
Not many Serah are proficient with magic's, though it is not highly unusual to see Serah enchanters and warlocks. Most of these enchanters are members of guilds within the cities. These guilds act as the heads of the city, controlling the streets and hunting for the rats that run outside their walls. Guilds constantly wage wars amongst each other for control of the city. Algra city is controlled by the Dimorah guild, their largest competitor is the Uralier guild. These guilds are run by thieves ad assassins, they are never seen as they stay within the confines of the guild hall. Law works differently in a Serah society, any act deemed unlawful is only such if there is a witness to the act. Any claims of unlawful behavior needs to be taken to the ruling guild hall for examination, any crimes deemed unlawful all end in execution.
Most Serah use clubs and long swords depending if the target is best disabled or impaled. Their defenses are more likely than not to be light leathers or chain mail, depending if they are on the prowl or not. The light leathers give them the agility to strike quick and silent, where as the chain will protect them from the thirsty blades of others.
women in Serah society are treated on even footing as men, as your gender and appearance hold no sway in a society that thrives on being underhanded, sneaky and unseen. Though many woman within the society without proper means to protect themselves or a guild as protection will find them selves constantly assaulted by sexual predators as the Serah population is only 25% female.
The average Serah stands short and slender with a height of 5 foot, 1 inch to 5 foot 6 inches. They are typically light weight individuals. The Serah have pale green skin and eyes of either gold or violet. their hair is always jet black and their faces are adorned with many piercings.
Khore
The Khore live in a very militaristic society, where 60% of men become able bodied fighters and warriors and even 35% of woman. Although warlocks are sparse through Khore society a few dedicated enchanters reside to imbue their weapons and armors. Many times these enchanters age up to be within the War Chiefs Advisors. The War Chief leads them into war and battle as well as acting as the leader of the tribe and solving disputes. The advisors of the War Chief are a collaboration of the 6 eldest members of the society who guide the War Chief though his problems. As a collaborative effort and an agreed upon choice of all 6 advisors, the advisors may over throw the War Chief and banish him from the village. In the case of a War Chief being over thrown, a tournament is held, the winner claims the spot of war chief and the same event takes place if the War Chief is to die.
Any able bodied Male of the Khore can challenge a War Chief to a dual, where the victor claims the honor of War Chief and the loser becomes banished from the village. It is not unusual for a Banished Khore to take refuge in another village, whether that is a Khore village or not, though they are not well taken by the Velari due to their ruff nature. If a War Chief makes a declaration of decision, it is final and must be obeyed until a War Chief over throws the declaration or if he is challenged over the declaration and defeated.
The Khore typically wield bladed weapons such as long swords though mostly zwielhanders (two handed swords) and wear durable leathers for armor that were crafted from the animals the Khore routinely hunt. To collect weapons The Khore typically trade goods with the Serah, though with a mindful watch over their goods.
Women of the Khore are not restricted by there Gender for the most part. Many Khore women can be found on the front lines of combat. Yet, upon being bound to a son or daughter the woman must forfeit combat unless in defense of the village until the child reaches adult hood at the age of twelve. As such, many of the most fertile woman work as enchanters, weapon smiths, or leather workers over being a soldier.
The average Khore towers over most over humans, with heights of around 5 foot, 8 inches to 6 foot 4 inches, with a weight to mach their well muscled body. The Khore have dark brown to black hair with dull grey to brown eyes. The most notable members of the tribe have tattoos adorning their faces and necks to symbolize a great act they have accomplished. It is commonplace for Khore to adorn themselves with the blood of their enemies as an intimidation method.
Velari
Sign Up
Discussion can be held in the thread, and any questions about the Roleplay can be ask and we (Pineapple and Myself) will try to answer them as clearly as possible.
You Can Officially Sign Up Here!
​
After Signing Up, you will receive information on the first session, your blank character sheet. At the First Session we will go over character creation, and how to get started in playing a Roleplay such as this one. Tools such as a Dice Roller, and any other guides (for those who miss the first session or need recap) will be hosted on our website (
creativity.thehelper.net/index.php/gemstone
) - Which is still under construction. Online Profiles for your characters will also be online the Creative Site when the first rounds of signups are completed.
Remember you can sign up at anytime! But its easier to start now then start later.