Starcraft II Moderator
Staff member
A new generation Base Control with emphasis on micro and tactics, NOT mindless massing of armies
​
​
​
​
​
A custom SCII map made by Siretu and Bloodcount.
​
Recommended player count: 4+​
Map Version:
1.0 (fresh out of beta)
​
​
II Core Gameplay mechanics
​
III Gameplay enhancement mechanics
​
​
​
These mechanics are relatively simple:
​
​
In order to win you must control all the hatcheries on the map before the timer (25 minutes) expires. Regardless of the outcome when the game is over the players can regame without having to leave the current game.
​
​
​
​
The mode is FFA, but after you kill an opponent, his last hatchery will remain his and he will be allied with you. That way no player will be out of the combat until the very end of the game.
​
II Core Gameplay Mechanics
​
The hatcheries on the map give you supply cap. From them you can train queens. The queens summon the rest of your army, they are your most important unit. The queens will degenerate mana at a rate of -0.5 per second. This means that the longer a queen isn't in action the weaker she will become.
​
​
The same can be said for her summonings, however they lose 1 hit point per second. Upon killing a unit they restore their health to maximum.
​
III Gameplay Enhancement Mechanics
​
1 The queen would be rather worthless after running out of energy. In order to restore her usefulness she has 2 other abilities which make her useful and give her more strategic depth. ​
•The first one is the Internal Balance. In exchange for 50 hitpoints the queen will restore her energy to maximum. ​
​
2 Upon killing an enemy unit the queen's summonlings not only restore their health but they gain the ability (for a small amount of minerals) to morph into a stronger version of theirs. The stronger version still loses hitpoints but it is significantly stronger. 2 of the morphed units merge into a different unit type. Although the merge is costly the newly formed unit is very strong and has a special role in the game. ​
​
•
The Roach for example has insane movement speed and it can chase down and wear out and chase down any unit. It is tanky and armored, with enough transfusion it is nearly impossible to kill.
​
​
​
3 Every hatchery can be upgraded into lair and hive. It's upgraded forms have a lot more hitpoints than its predecessor. They are very good for fortifying key positions on the map. The Lair and Hive summon stronger queens with stronger spells. Their summonings are stronger than the Hatchery level queens. Upgraded forms also give more supply.​
4 If a hatchery is not taken by a player it will turn into a hive after 5 minutes.​
5 The map has AI.​
​
​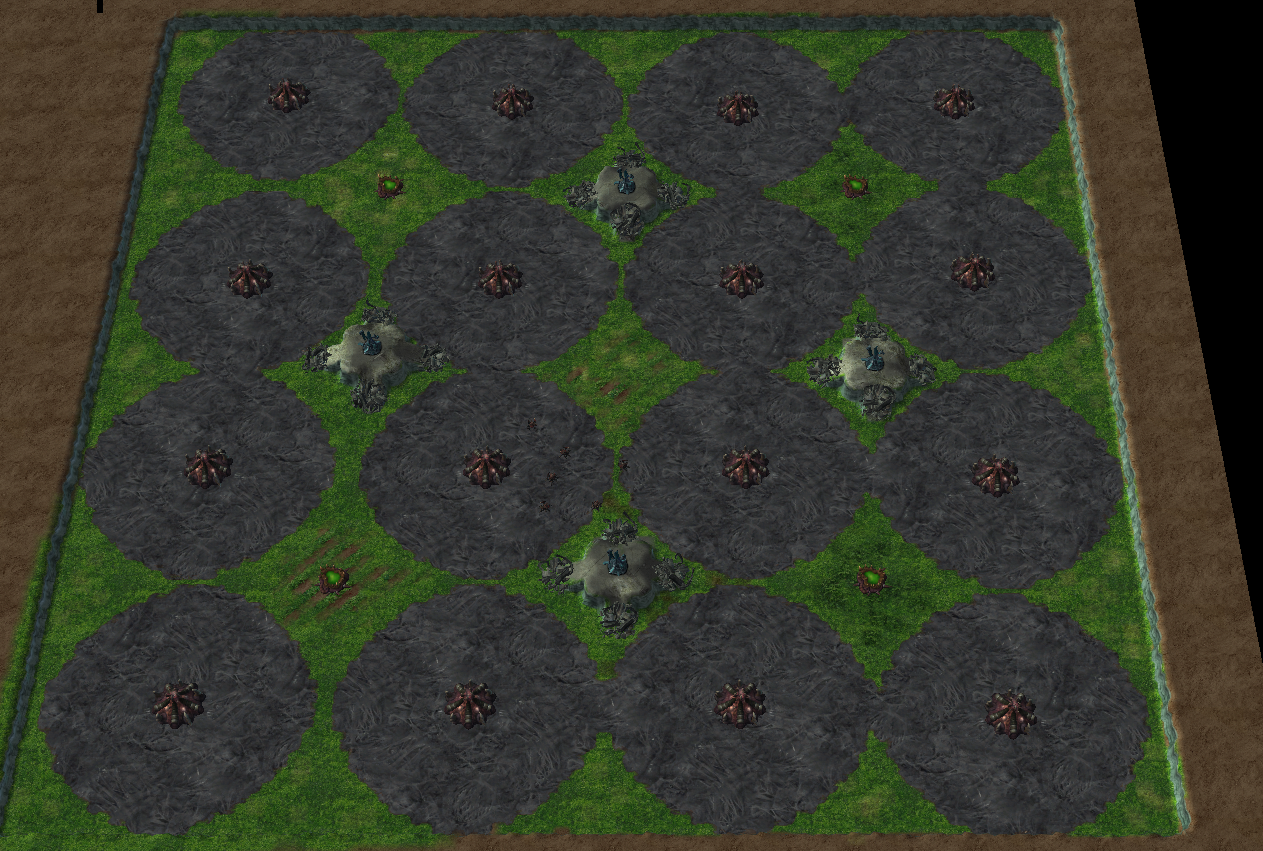 ​
The map is open, there are hardly any choke points, due to the lack of AoE. There are a couple of places of interest that players will want to control.
​
​
​
1 Restoration Pools. Remember warcraft III's health and mana fountains ? They have been left out of any maps in SCII... can't imagine why. Well, we are the first ones to fix this mistake because they are making a comeback in Hatchery Havoc! They give a small health and mana regeneration to all units in their range. They are the only way to heal your units without losing minerals. ​
​
There is a total of 4 pools on the map. The regeneration matches the summonlings deregeneration, so a summonling's life will stay the same if they're close to a restoration pool.
​
​
2 Xel'Naga watch towers- there is 4 of them, each one of them is on highground and the ramps are blocked by destructible rocks (500 hp) The strategic value that the Xel'Naga towers give on a small map like this is very big, that is why we feel that the player must first invest time into capturing the tower before being able to use it to plan his offence/defence. ​
​
We would love hear your feedback and watch your replays. Thank you for reading and enjoy the map.
​
​
​